Community Park Pavilion
The Community Park Pavilion can be reserved by residents for $75 up to four hours in duration. Non-resident rate is $125. A $250 deposit must be received in advance.*
Trussville Street Park Shade Structure
The Trussville Street Park Shade Structure can be reserved by residents for $75 up to four hours in duration. Non-resident rate is $125. A $250 deposit must be received in advance.*
Picnic Table Area
The Picnic Table area can be reserved by residents or non-residents at no charge up to four hours. A fully-refundable deposit of $50 is due in advance.*
---
Sports Field (for Coaches)
The Sports Field can be reserved by resident coaches for $35 per hour or by non-resident coaches for $70 per hour up to four hours. Rules apply to protect the turf. A $250 deposit must be received in advance.*


* Deposit is fully refundable if the amenity is left undamaged and as clean as its starting condition.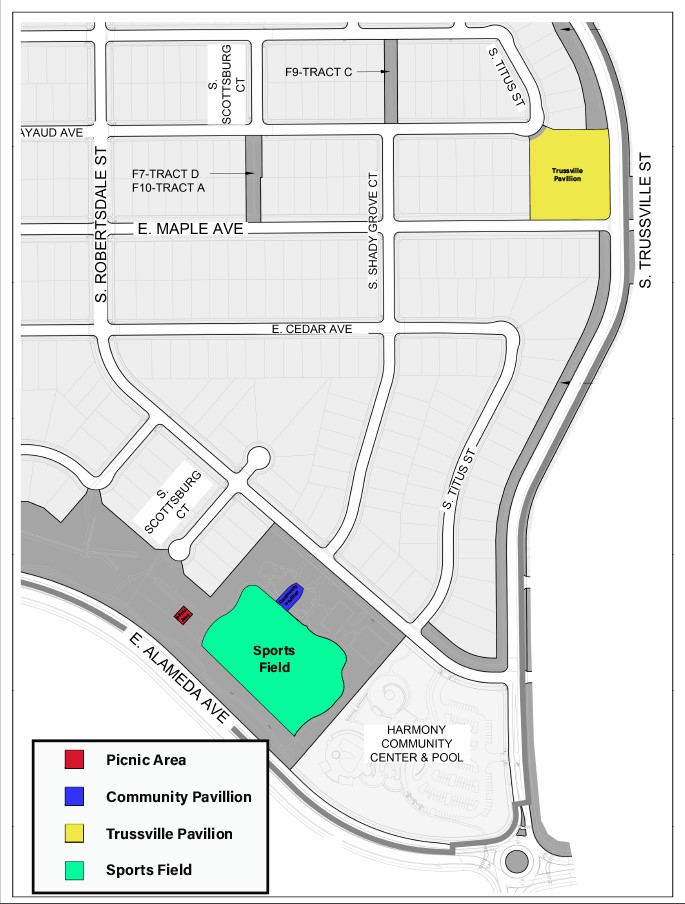 Scroll down for steps to reserve an amenity.
Step #1: Read the Reservation Policy
Step #2: Check Availability on the online calendar (hosted by Skedda)
Step #3: Submit an Amenity Reservation Request
Step #4: Pay deposit and/or rental fee